We post news and comment on federal criminal justice issues, focused primarily on trial and post-conviction matters, legislative initiatives, and sentencing issues.

THE JUDICIARY COMMITTEE REPORTED S.1917 TO THE FULL SENATE BY VOTE TODAY, FEB. 15TH, AT 12:04 PM. THE VOTES WERE 16 FOR, 5 AGAINST.
SENATE JUDICIARY COMMITTEE PONDERS HOW TO GET SENTENCING REFORM AND CORRECTIONS ACT PAST THE SENATE LEADERSHIP; VOTES TODAY
The Senate Judiciary Committee's consideration of the Sentencing Reform and Corrections Act (S.1917), a bill which injects some sanity into both sentencing and rehabilitation policies, comes to a head with a mark-up and vote today. And unsurprisingly, the Attorney General – who never met an inmate he didn't think should be serving multiple life sentences – weighed in on the widely-supported measure yesterday.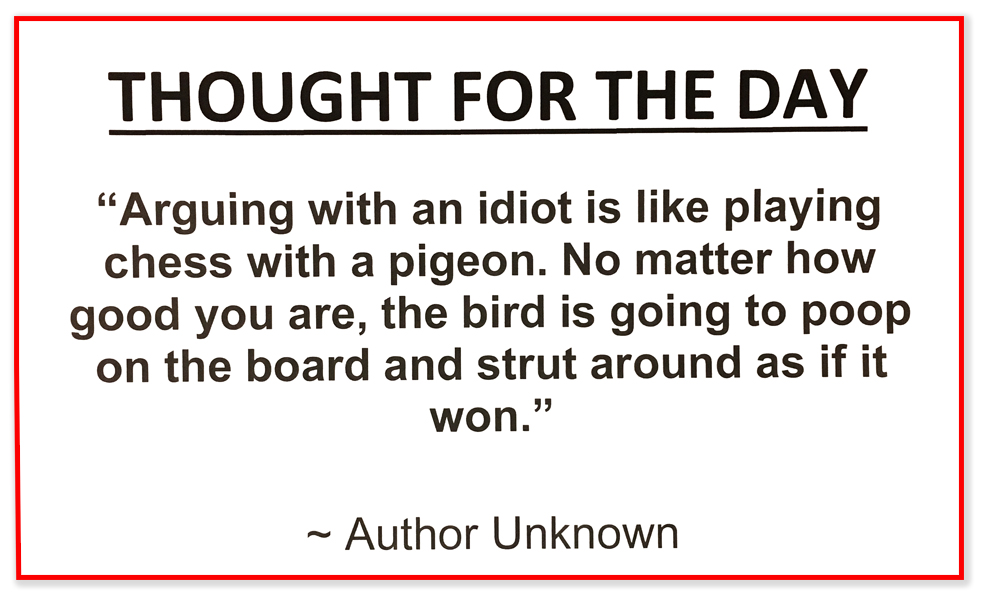 In a letter to the Committee, Attorney General Jefferson Beauregard Sessions III warned that S.1917 "would reduce sentences for a highly dangerous cohorts of criminals, including repeat dangerous drug traffickers and those who use firearms and would apply retroactively to many dangerous felons, regardless of citizenship or immigration status," Sessions wrote.
Of course, the bill would only entitle persons convicted and sentenced in ways unintended by Congress when it wrote 18 USC 924(c) and some other recidivist statutes to ask their sentencing judges for a reduction under 18 USC 3582(c)(2). The judge is entitled under that statute to grant the request in full, deny it in full or grant it only in part. But the AG hardly trusts federal judges – the people who impose sentences to begin with – to make a reasoned decision about the risk that sentence reduction will create when "a highly dangerous cohorts of criminals" is involved .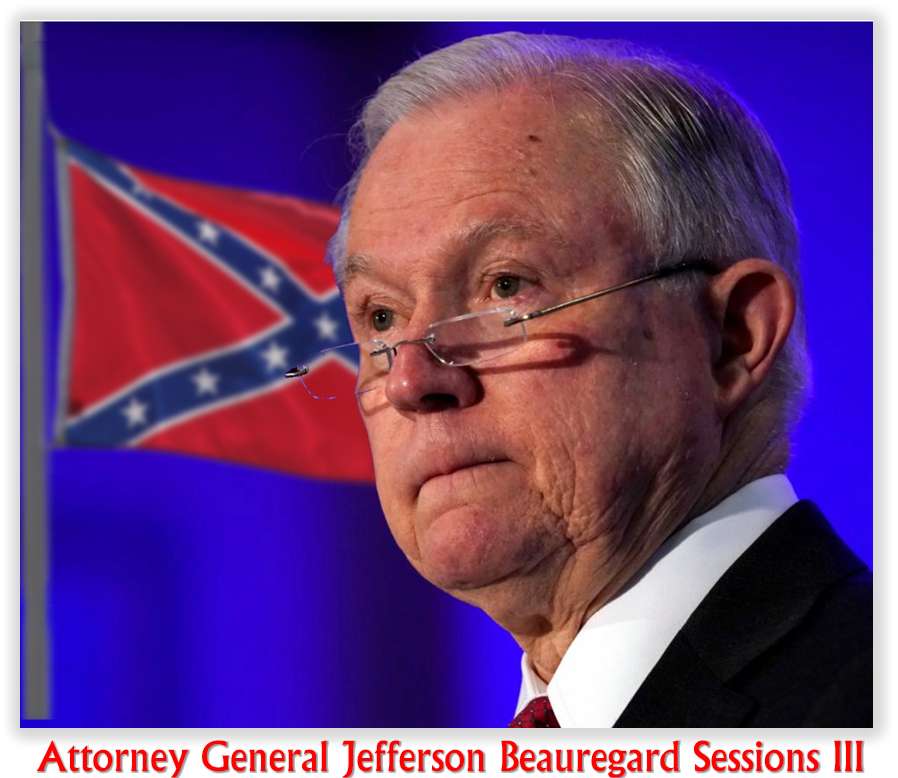 The Attorney General's scolding was not well received by Sen. Charles Grassley (R-Iowa), chairman of the Committee. The Washington Post reported Sen. Grassley was "incensed" at Sessions "for trying to derail a bipartisan bill that would reduce mandatory prison terms for drug offenders on the eve of its first procedural vote." Sessions and Grassley have long been at odds over the measure, which reduces the length of mandatory minimum sentences for repeat nonviolent drug offenses, eliminates the "three strike" provision of 18 USC 3559(c)(1) that requires a life sentence, and gives judges greater leeway to impose sentences under the mandatory statutory minimum sentences for some offenses, when certain conditions were met. The reforms embraced by the bill fly in the face of Sessions' bid to wage a new war on drugs, leading him to label the bill a "grave error."
Grassley wasted no time publicly blasting Sessions, giving the AG what the Post called "a short reminder about who in the government makes the federal laws — and who is supposed to follow them."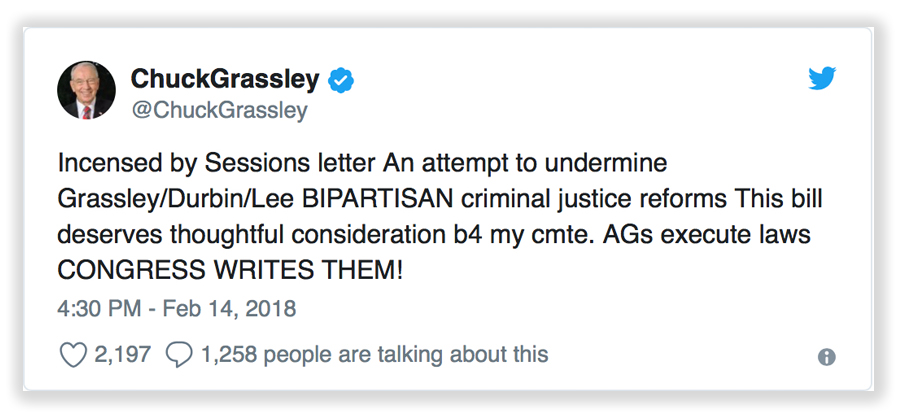 In October 2015, the panel passed an identical measure, sending it on to the full Senate by a 15-5 vote.
Committee members anticipated Sessions' outcry. Last week, the Committee spent most of its hearing time debating how best to get favorable action in the Senate. John Cornyn (R-Texas), one of the bill's sponsors, said, "Given the opposition of the Attorney General and given the vocal opposition of some law enforcement groups, I honestly don't see a path forward for that bill…"
Cornyn, who serves as Senate majority whip, said Senate Majority Leader Mitch McConnell (R-Kentucky) would be more likely to bring a prison reform bill to the floor than a sentencing reform package that might be a wedge within the Republican caucus. Cornyn said the committee's best opportunity to move a criminal justice bill would be his legislation, proposed along with Sen. Mike Lee (R-Utah) and Sheldon Whitehouse D- Rhode Island), which contains only provisions aimed at easing re-entry for prisoners — "and then building on that as we can" with a sentencing amendment process on the floor.
Sen. Dick Durbin (D-Illinois), a prominent co-sponsor of the bill, disagreed, saying the Senate should not abandon bipartisan legislation just because the administration does not fully support it. "It's a sad day if we are saying that we will not consider a measure in the halls here of the Senate Judiciary Committee if the attorney general of the United States opposes it," Durbin said at the committee meeting. "For goodness sakes, have we reached that point? I hope not."
"I'm worried that if we just revisit the Sentencing Reform and Corrections Act, which failed during the Obama administration, given this change in the new administration and its views on the sentencing reform component of it, we're going to have nothing to show for our efforts," said Cornyn, using the bill's formal title. "I know we all tried to work together on this and it just didn't work out."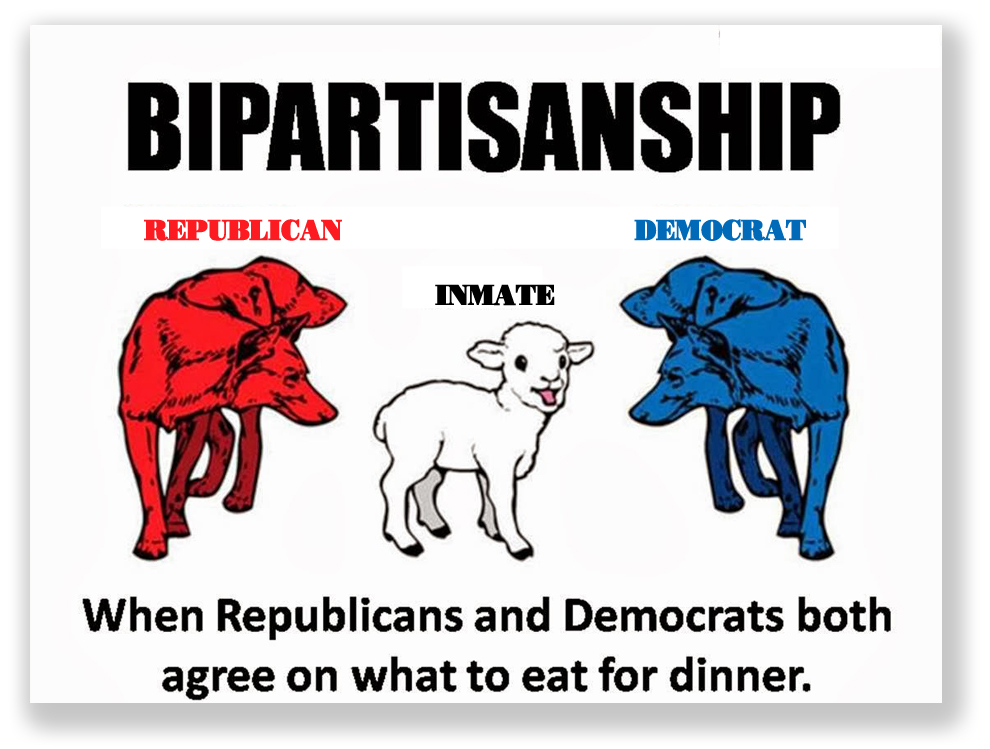 Sen. Grassley said at the time the compromise SRCA bill would be the best way to get the sentencing and prison provisions into law. "It's a matter of process and around here — nothing gets done unless it's bipartisan. And I don't often agree with Sen. Durbin, but we put together a bill that we worked really hard and we think it's the only way of advancing both bills… There's some people around here [who] are just a little bit afraid of what you call an Assistant U.S. Attorneys Association and they're stopping everything from being done that is so successful in the other states. And when some people are willing to stand up to those leaders of the Senate, we'll get something done in both areas."
Congress is expected to remain focused on immigration-related debates for the foreseeable future, as the March 5th deadline for the expiration of the Deferred Action for Childhood Arrivals program approaches.
One political observer, who writes under the pen name "root" (and has nothing to do with the author of this blog), said he has spoken to Grassley, and that the Senator "plans to use his substantial political clout to press Trump to change his mind." The commentator said,
Trump bends over backwards to keep Grassley happy. He knows that as Judiciary Chairman, Grassley played a crucial role in delivering two of Trump's biggest successes so far: the confirmation of Supreme Court Justice Neil Gorsuch and a modern record for circuit court judges in a president's first year. 'I've carried a lot of water for the White House,' Grassley told me. 'They ought to give some consideration for the close working relationship we've had on issues we agree on… I think people at the White House have not wanted to go against Gen. Sessions,' he added, before closing with a sentence crafted perfectly to appeal to Trump's ego. 'This is an opportunity for a bipartisan victory by the President of the United States'.
Washington Post, Grassley 'incensed' by attorney general's attempt to stymie sentencing reform (Feb. 14, 2018)
10ztalk.com, root, Grassley twists Trump's arm for criminal justice reform (Feb. 11, 2018)
Reuters, U.S. attorney general opposes plan to reform prison sentencing (Feb. 14, 2018)
District Sentinel, Senate Committee to Advance Criminal Justice Reform Once Opposed by Jeff Sessions (Feb. 8, 2018)
Roll Call, Senators Ponder How to Break Criminal Justice Logjam (Feb. 9, 2018)
Courthouse News Service, Cornyn Sees No Way Forward for Sweeping Criminal-Justice Reform (Feb. 8, 2018)
– Thomas L. Root