We post news and comment on federal criminal justice issues, focused primarily on trial and post-conviction matters, legislative initiatives, and sentencing issues.

READ 'EM AND WEEP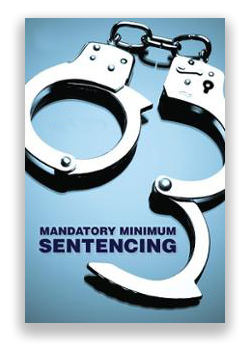 Everyone appreciates on a visceral level how badly Congressional meddling in sentencing – in the form of statutorily-imposed mandatory minimum sentences – has loaded the BOP with inmates serving harsh sentences and skewed any attempt by the United States Sentencing Commission to impose a rational system. Thanks to a USSC report issued yesterday, everyone's understanding of mandatory minimum sentence havoc can be intellectual as well.
The USSC study, An Overview of Mandatory Minimum Penalties in the Federal Criminal Justice System (2017 Overview), examines the application of mandatory minimum sentences and the impact of those penalties on the federal prison population."
The 89-page report is a bonanza of data on mandatory minimums. Perhaps most significant to us is the fact that over half (55.7%) of federal inmates at the end of last fiscal year were serving time for offenses carrying mandatory minimum sentences. Recall that one of our criticisms of Prisology's sentencing table reform was that so many inmates – perhaps 150,000 – would be eligible for a sentence reduction were the table made retroactive that the courts would be overwhelmed. This likely flood of sentence reduction motions would probably cause the Commission to refuse retroactivity.
The Report's number suggests that even if the table were amended and made to apply retroactively, only about 83,000 inmates would be eligible for a sentence reduction under 18 USC 3582(c)(2). That number is still high, but much more manageable than our original estimate. While we still have substantial doubts that the Prisology proposal will go anywhere, we acknowledge that the sheer volume of eligible inmates is less than half of what we anticipated, tipping the probability scale more in Prisology's favor.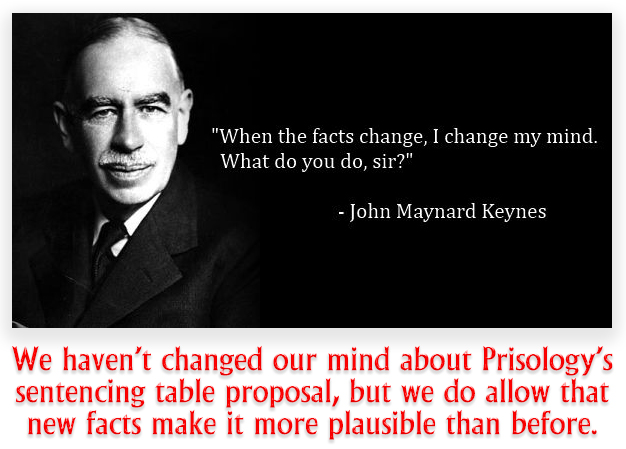 Other interesting facts gleaned from the Report:
•   The average sentence length for inmates serving mandatory minimum sentences convicted was 110 months, nearly four times the 28-month average sentence for inmates without a mandatory minimum.
•   Over one-third (38.7%) of inmates convicted of a mandatory minimum offense received relief from the mandatory minimum at sentencing, a decrease from 46.7% six years before.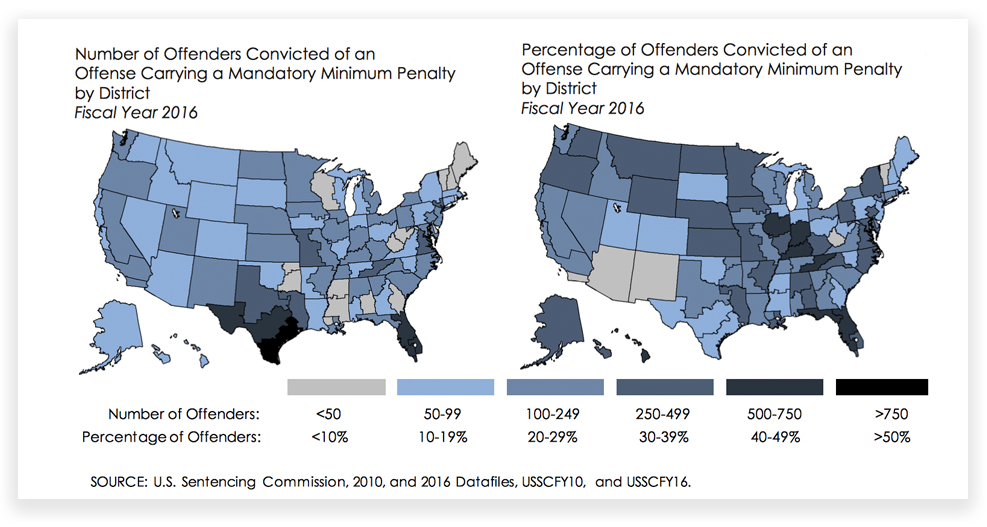 •   Fewer that 10% of defendants in Vermont, West Virginia, New Mexico and Arizona were convicted of mandatory minimum offenses. But in middle Illinois, southern Indiana, western Kentucky, eastern Tennessee, and northern and middle Florida, between 40% and 50% of defendants were hit with mandatory minimums.
• While drug and gun mandatory minimum sentence convictions have stayed level or dropped since 2002, child porn and sexual offense mandatory minimums have skyrocketed from fewer than 5% of all defendants charged with those offenses to 60%.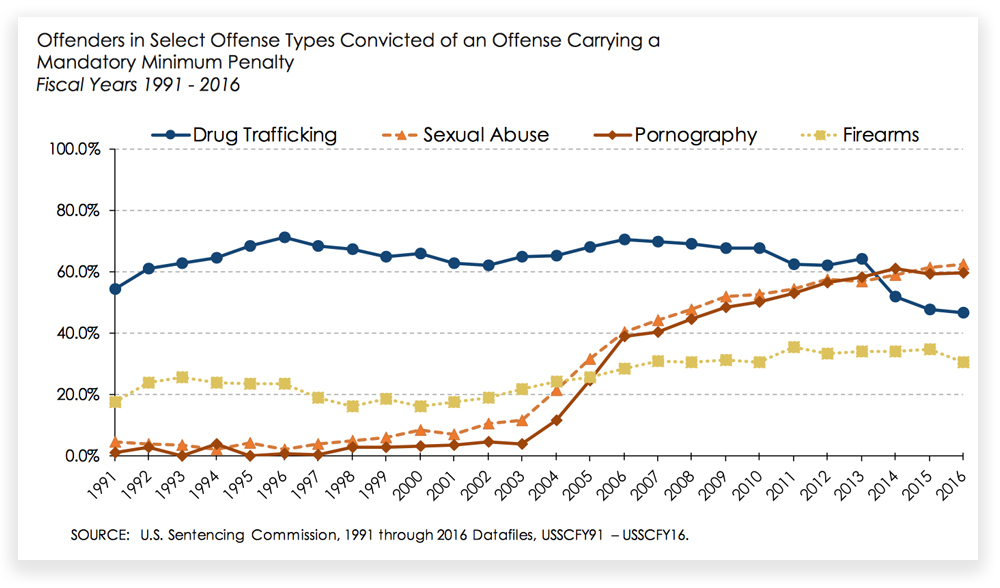 Judge William H. Pryor, Jr., Acting Chair of the Commission, said in a press release that "when Congress created the Commission, Congress empowered it to serve 'as a clearinghouse and information center' about federal sentencing and to assist Congress, the federal courts, and federal departments in the development of sound sentencing policies… The Commission has published this report to fulfill that Congressional mandate."
In a 2011 report, the Commission urged Congress to moderate drug, firearm and sex/porn mandatory minimums. Since that time, Congress has proposed adding several new mandatory minimums, but thus far has ameliorated nothing.
U.S. Sentencing Commission, An Overview of Mandatory Minimum Penalties in the Federal Criminal Justice System (July 11, 2017)
– Thomas L. Root