We're still doing a weekly newsletter … we're just starting to post pieces of it every day.  The news is fresher this way …

HOW ARE THE LOWER COURTS TREATING THE BECKLES CERT?
By now, everyone is aware that before it left for summer vacation, the Supreme Court granted certiorari to Beckles v. United States. This means by the end of the year or early in 2017, the justices will decide whether Johnson v. United States applies to "career offender" sentences under the Sentencing Guidelines (a decision which probably will also dictate whether Johnson applies to the many other references in statute and the Guidelines to "crimes of violence."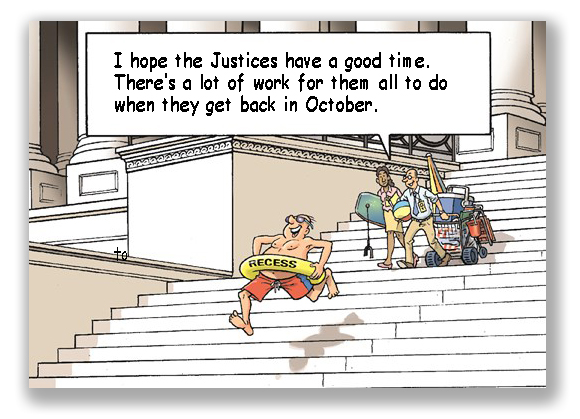 A reader recently asked us what courts were doing with pending 2255 motions that argued Johnson should apply to "career offenders" and people with 924(c) gun convictions based on crimes of violence. Last Thursday, the Court of Appeals for the 2nd Circuit gave us a hint.
Michael Blow pleaded guilty to one count of conspiring to distribute 5 grams or more of cocaine base. The district court sentenced him to as a career offender under the Sentencing Guidelines. He recently filed an application with the 2nd Circuit for leave to file a second-and-successive 2255 motion under Johnson, to argue that one of his predicate offenses was no longer a violent crime.
The 2nd Circuit noted the Supreme Court's recent grant of certiorari in Beckles, and that the 4th Circuit had previously decided that a "career offender" Johnson challenge would support a second-and-successive 2255, in In re Hubbard. The 2nd said that "in sum, there is substantial disagreement among other circuits on the question on which the Supreme Court has granted certiorari in Beckles." For that reason, the court granted Michael Blow the right to file a second and successive 2255, and said that "because the Supreme Court will likely decide in Beckles whether Johnson applies retroactively to the Guidelines, the district court is instructed to hold Blow's § 2255 motion in abeyance pending the outcome of Beckles."
Blow v. United States, Case No. 16‐1530 (2nd Cir. July 14, 2016)