We post news and comment on federal criminal justice issues, focused primarily on trial and post-conviction matters, legislative initiatives, and sentencing issues.

… AND BROUGHT FORTH A MOUSE
You recall the flurry of activity in July, as the nonprofit group Prisology encouraged people – inmates, families, friends and advocates – to sign on to comments encouraging the U.S. Sentencing Commission to consider a new Sentencing Table that reduced sentencing ranges across the board?

Prisology ended up delivering 62,236 online submissions and an additional 22,000-plus letters supporting its proposal. It delivered over 80,000. In fact, Brandon Sample, president of Prisology, reported to us by email at the end of July that he expected to exceed 90,000 submissions when all was said and done.
Brandon would probably agree with our take that getting the Sentencing Commission to address the Sentencing Table, which has not been amended for other than three minor tweaks in nearly 30 years, is a race that is more of a marathon than a sprint. Still, we thought the Commission might somehow acknowledge the widespread interest in promoting amendment of the Sentencing Table to the Commission's listed priorities for the coming cycle.
The Sentencing Commission did not. Indeed, one wonders whether it read any of the comments it received. TL;DR, maybe? It's pretty curious that a side-by-side comparison of the priorities it adopted for the coming amendment cycle shows that they are virtually word-for-word the priorities it originally proposed when it asked for public comment. As Aesop once put it, "The mountain labored mightily, and brought forth a mouse."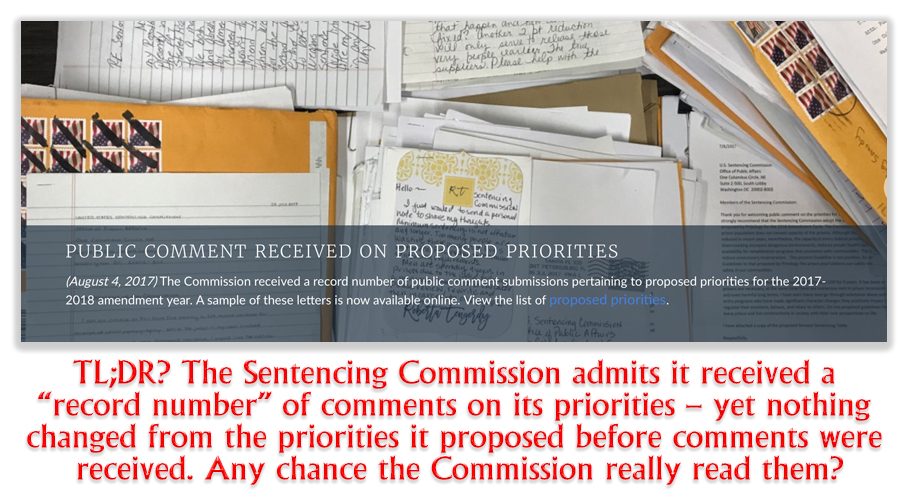 To be sure, some of the priorities are promising. Its first goal is to "simplify the guidelines, while promoting proportionality and reducing sentencing disparities, and to account appropriately for the defendant's role, culpability, and relevant conduct."
Other priorities include revision of the "career offender" guidelines to "focus on offenders who have committed at least one 'crime of violence,' and to adopt a uniform definition of 'crime of violence' applicable to the guidelines and other recidivist statutory provisions." The Commission also hopes to expand the "safety valve" at 18 U.S.C. 3553(f), and to get Congress to eliminate mandatory "stacking" of penalties under 18 U.S.C. 924(c). As well, the Commission wants to "promote effective reentry programs" and perhaps lower guideline ranges for "first offenders."
All of this is good stuff, but for a couple of provisos. First, the 7-member Sentencing Commission currently only has four members. President Trump and his legal sidekick, Jefferson Beauregard Sessions III, will pick the other three (with one, U.S. District Judge Henry "Hang 'em High" Hudson as the first choice, as we noted last week). The complexion of the Commission could change drastically in the next few months, and all of the touchy-feely business about actually making the Guidelines fairer and more reasonable could be torpedoed by a 7-member commission with three staunch law-and-order types.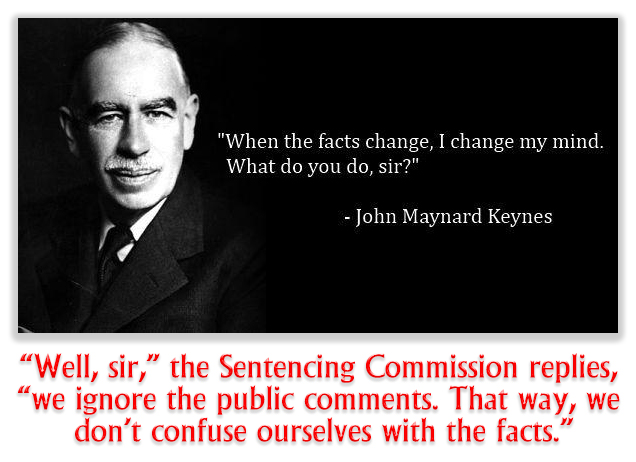 Second, a lot of what the Commission wants to do – fixing mandatory minimums and expanding the safety valve, for example – will require Congressional action. We have seen how effective Congress can be: last year, the bipartisan sentencing reform legislation died, and this year's version languishes in committee.
Finally, these priorities are not the same thing as amendments, or even proposed amendments. Something will have to happen to turn intent into action, and then action into retroactivity.
Meanwhile, Prisology finds itself on the beginning mile of a marathon. How it handles the campaign for a more rational sentencing table from here on out will give us an idea of what the organization is made of.
United States Sentencing Commission, Federal Register Notice of Final 2017-2018 Priorities (August 17, 2014)
– Thomas L. Root