We're still doing a weekly newsletter … we're just starting to post pieces of it every day.  The news is fresher this way …

DISABLED BEHIND BARS
America's four-decade-long experiment with mass incarceration and overcriminalization is widely recognized as a failure, according to a study on the disabled in America's prisons issued earlier this week.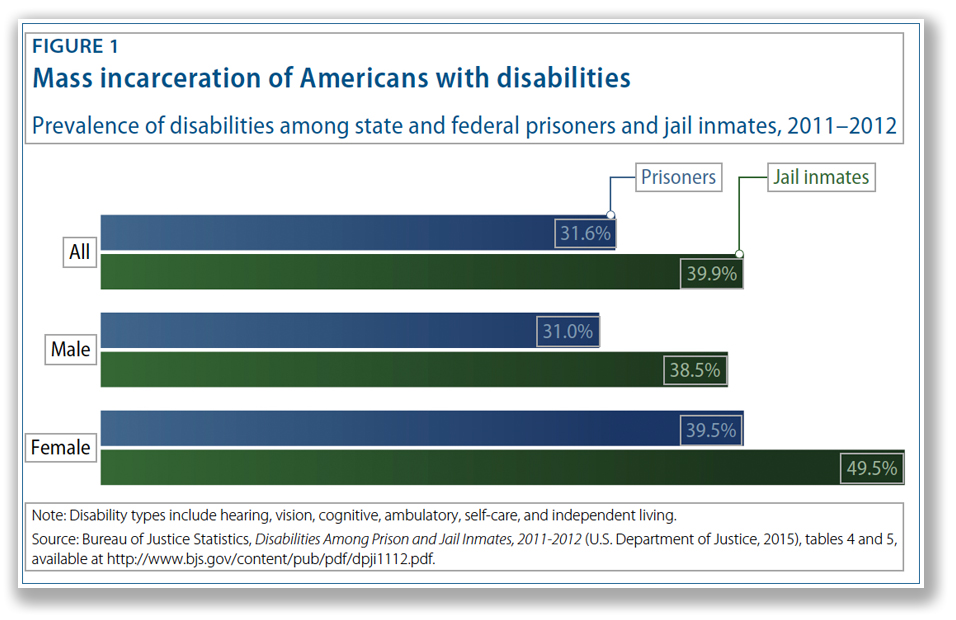 The report, Disabled Behind Bars – The Mass Incarceration of People With Disabilities in America's Jails and Prisons, argues "the crushing impact of the criminal justice system's failure is felt acutely in communities across the United States. Significant and growing research shows how certain populations — including communities of color; residents of high-poverty neighborhoods; and lesbian, gay, bisexual, and transgender, or LGBT, individuals — have been particularly hard hit. But rarely discussed is the impact of the criminal justice system on Americans with disabilities."
Over 30% of prison inmates and about 40% of jail detainees suffer from hearing, vision, cognitive, ambulatory, self-care, or independent living disabilities, the report states. "People with disabilities are thus dramatically overrepresented in the nation's prisons and jails today. According to the Bureau of Justice Statistics, people behind bars in state and federal prisons are nearly three times as likely to report having a disability as the non-incarcerated population."
The report also found a dearth of support for disabled prisoners, who are "often deprived of necessary medical care, as well as needed supports, services, and accommodations." The report claims that this imbalance of needs and services exists despite long-standing federal disability rights laws such as the Americans with Disabilities Act and other statutes "that mandate equal access to programs, services, and activities for all people with disabilities in custody."
The study called for a number of changes in the approach to disabled inmates, including establishing of an Office of Disability within the Department of Justice, more diversion of the disabled into community-based corrections, and enhancing training and resources within prisons to ensure compliance with the Americans with Disabilities Act.
Disabled Behind Bars was written by Rebecca Vallas and published by The Center for American Progress, a liberal think tank in Washington, D.C.
Center for American Progress, Disabled Behind Bars – The Mass Incarceration of People With Disabilities in America's Jails and Prisons (July 2016)